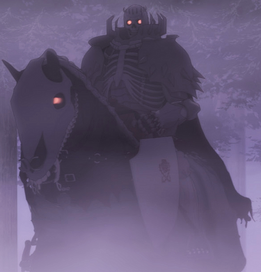 "If I ever fight Ukhel, I will die happy. Those two things will probably not be that far apart." -Ragnar Forge-Fire.
Ukhel is the Spirit of the Warrior, created by Tulaan to be his guardian. He takes the form of a knight in skeletal armour wielding a flaming sword. His sacred grounds are fields of battle. He is also the creator of The Blade of the Spirit.
Ad blocker interference detected!
Wikia is a free-to-use site that makes money from advertising. We have a modified experience for viewers using ad blockers

Wikia is not accessible if you've made further modifications. Remove the custom ad blocker rule(s) and the page will load as expected.