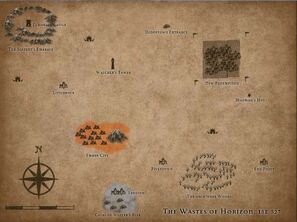 "Horizon, truly a wasteland of dust and anarchy, though not devoid of the odd pleasant surprise" -Will Barton, Mercenary for Hire.
Horizon is a land to the West, known for its lawlessness and semi-arid heat.
Communities
Horizon is a large land, made up of many communities. These include:
Undertown
Ember City
River Town
Froston
Echohall
Littlerock
End Point
Ad blocker interference detected!
Wikia is a free-to-use site that makes money from advertising. We have a modified experience for viewers using ad blockers

Wikia is not accessible if you've made further modifications. Remove the custom ad blocker rule(s) and the page will load as expected.